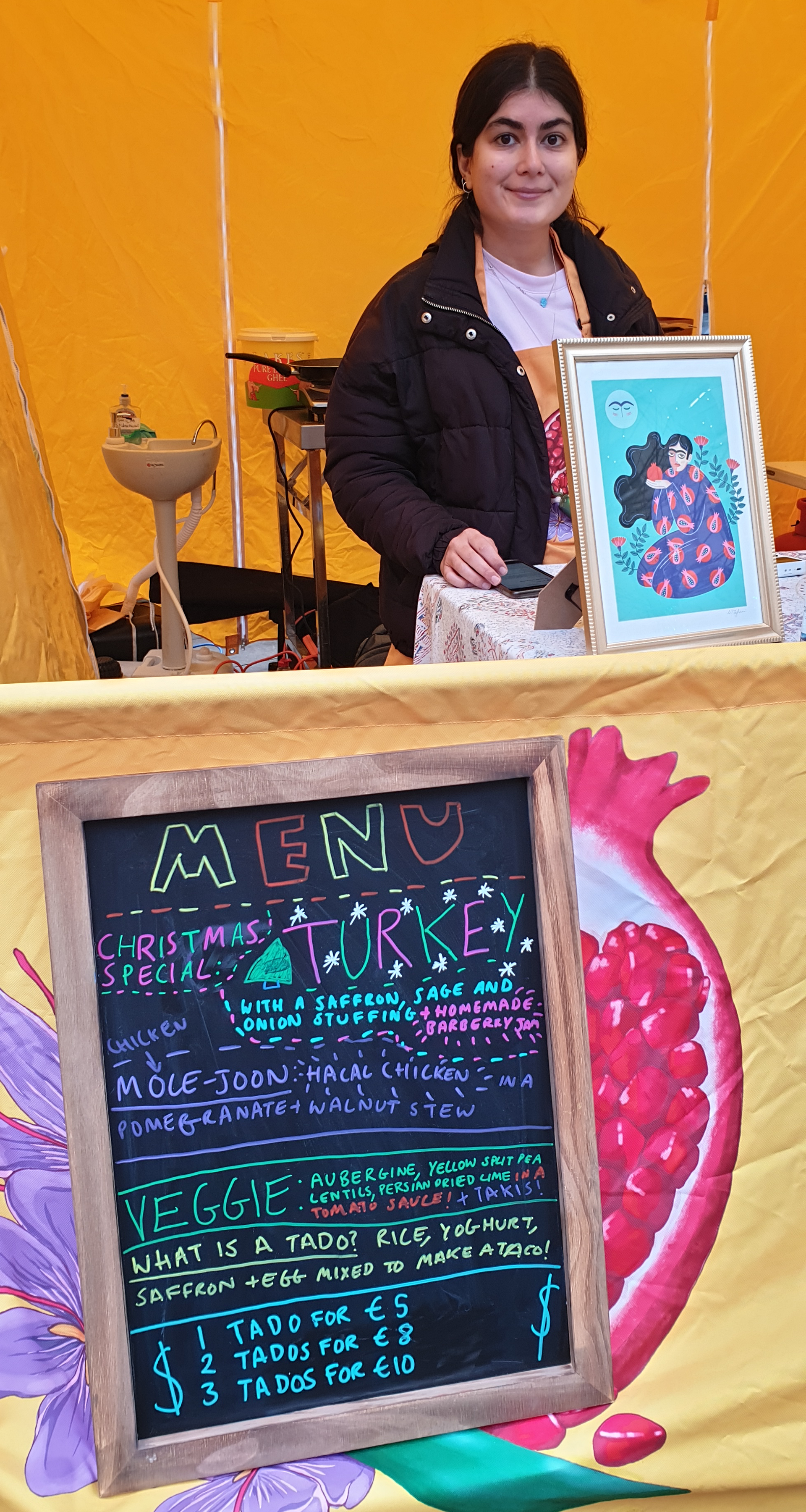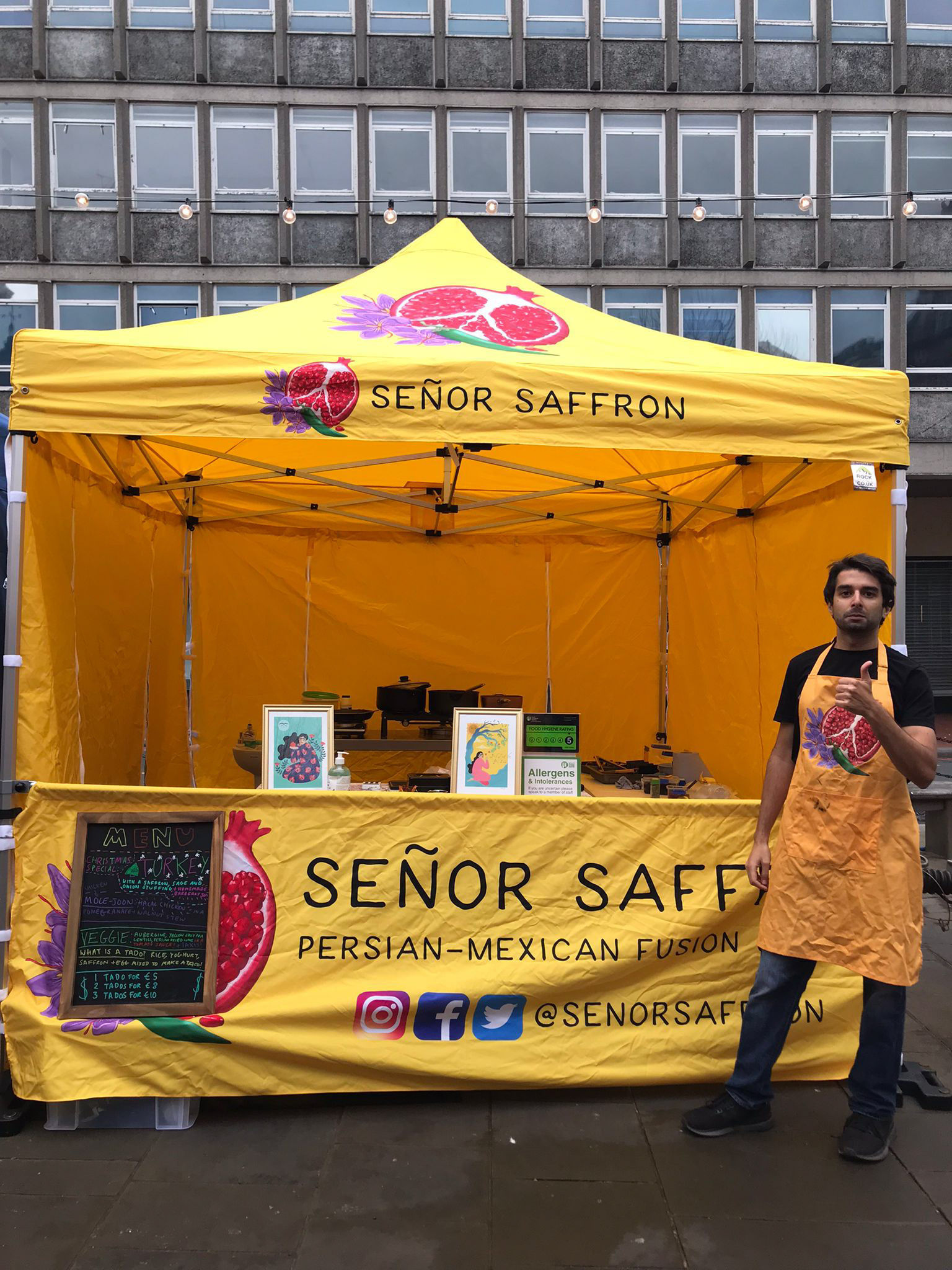 "I don't understand why you do this."
Nearing midnight, I was still cooking in the kitchen when my friend Tom made that remark, and at that point I was struggling to find a good answer. I'd been cooking since half past seven that evening (along with cooking for over three hours the night before), and I didn't get to bed until after 2am, waking up about three hours later.
This was all in preparation for a Wednesday market at Blue Collar Street Food in Reading, which in itself was a sort of trial run for a weekend Christmas market at the same venue, as I had a couple of new tado recipes to try out.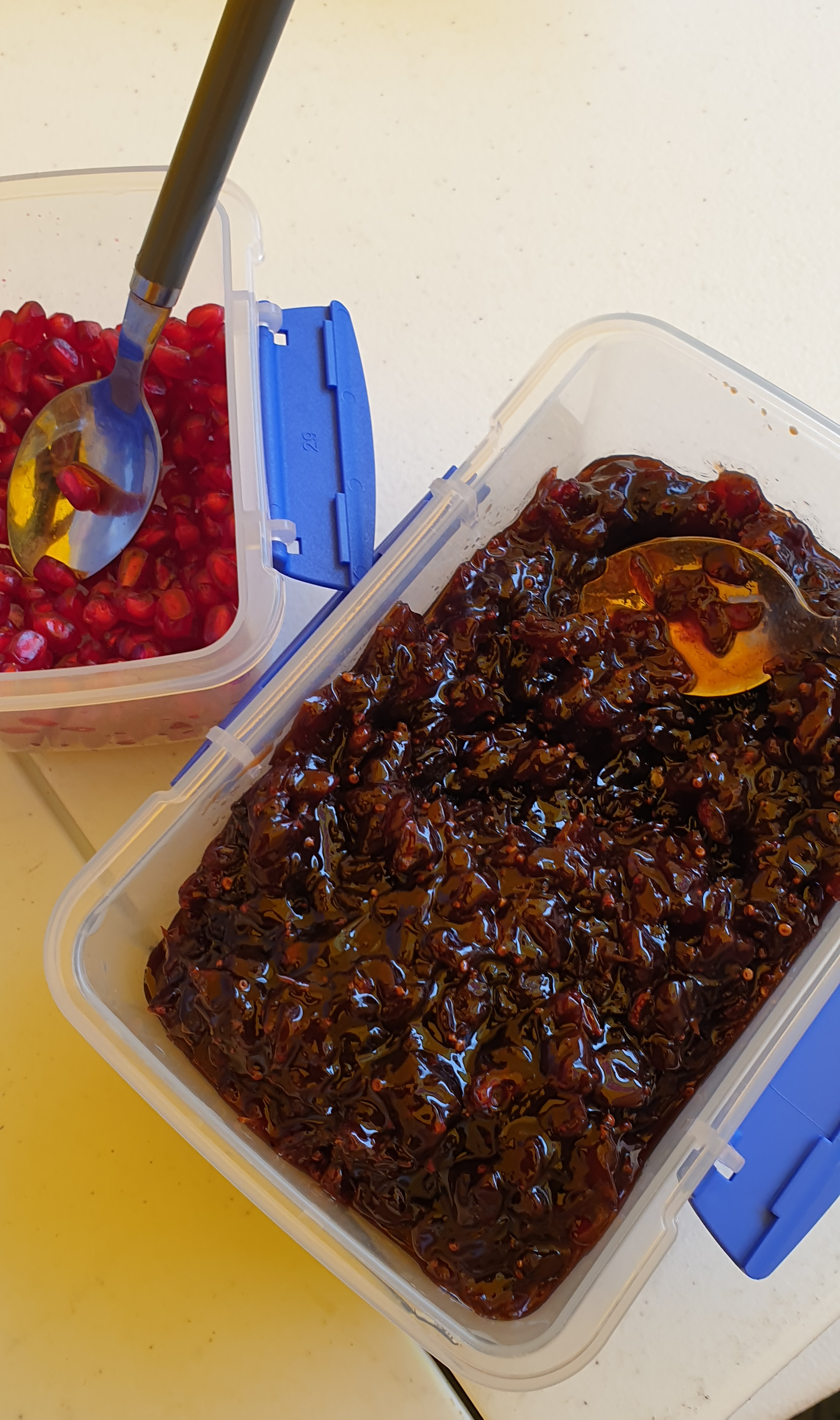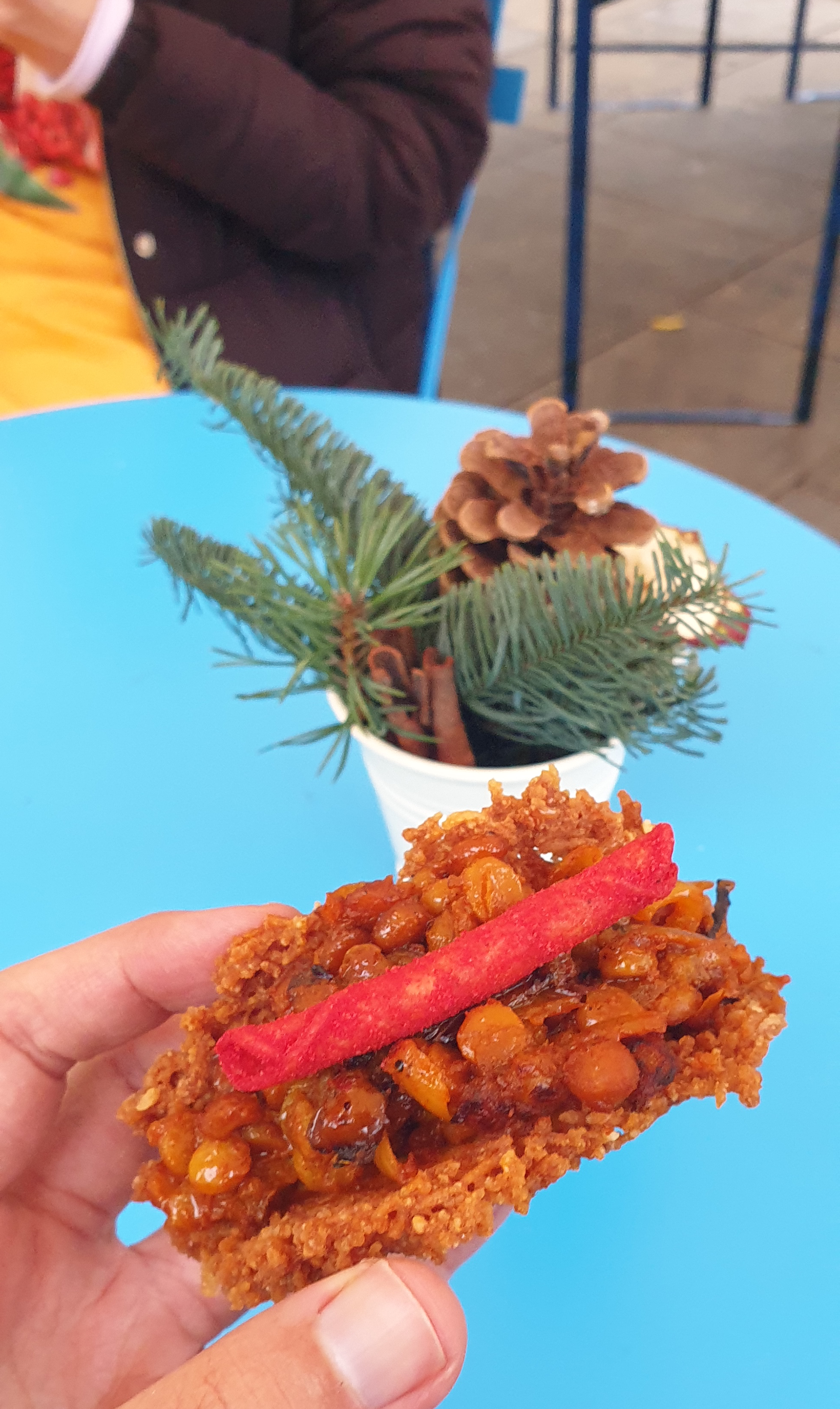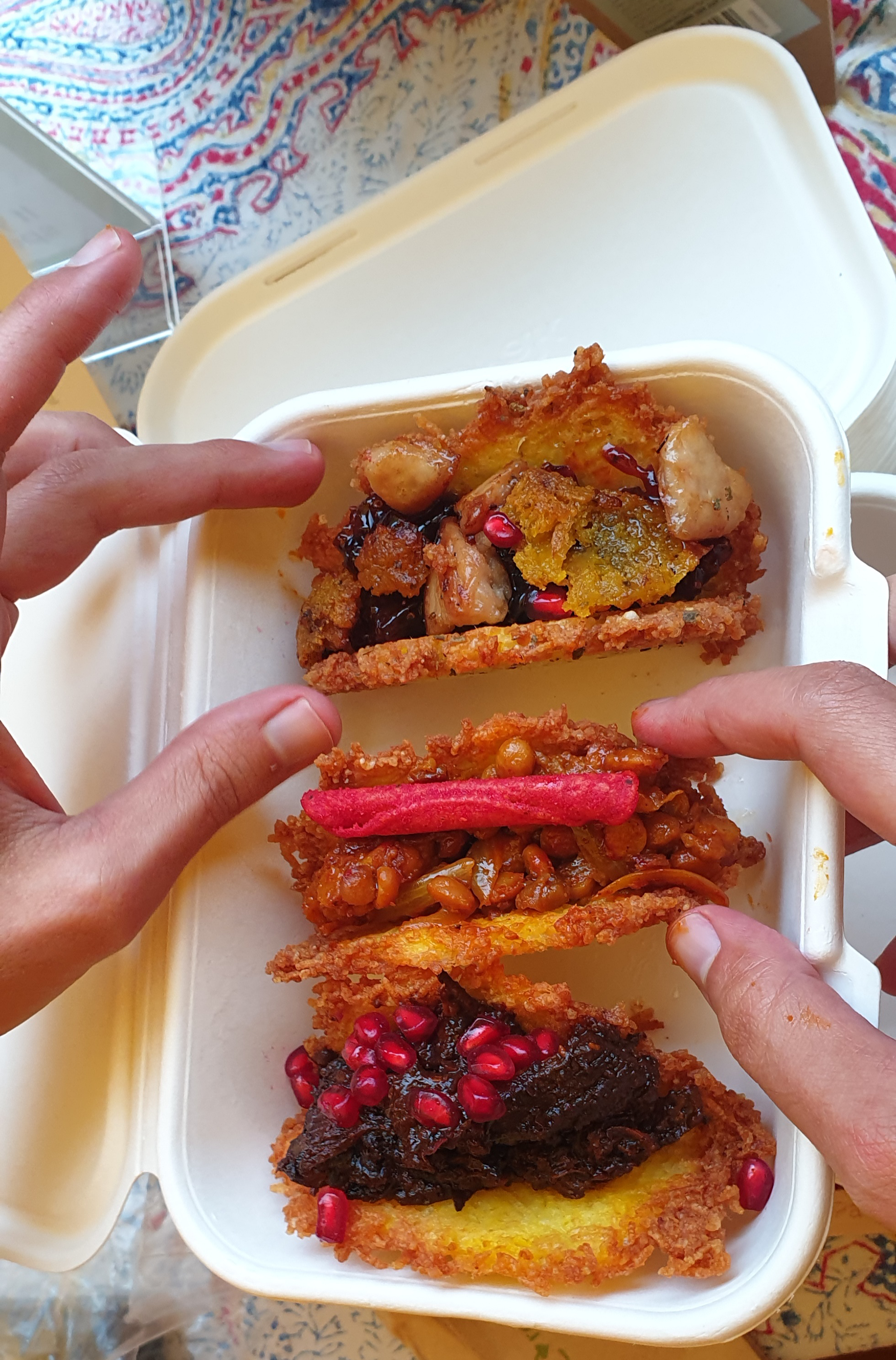 At my first stall in June I did a beef-based gheimeh (stew with yellow split peas and turmeric and tomato purée); in August I decided to try it with lamb instead. While my own preference is for lamb (the fatty meat and the bones make the broth especially rich and flavourful), there had been quite a few customers who had requested a vegetarian option. Gheimeh was the most obvious candidate as one of the most popular variants includes aubergine (gheimeh bademjan, with "bademjan" being the origin of the word aubergine).
But I was most excited of all to make a Señor Saffron Christmas special. I knew I wanted to make something with turkey, but it took a bit of trial and error to get there. A while back I had tried making barberry jam following
the recipe at Saffron & More
, but it had turned almost into toffee as I c. I then tried just frying diced turkey in pomegranate molasses, which wasn't bad, but there was this metallic aftertaste I couldn't shake. So I braved another attempt at making barberry jam, this time taking
some advice from Mary Berry
(God bless you), and it turned out quite well.
I also knew I wanted stuffing in the tados, since everyone loves stuffing (also because turkey is pretty pricey). I try to avoid using bread/wheat in my cooking so I can say everything is gluten-free, and so I went with 
masa harina
(dried and powdered flour made from nixtamalized corn) and added water, sage, onion, and of course, saffron.
I cook almost everything a three-gas-hob setup in the gazebo: one hob for a pan full of ghee to deep-fry the tados, one hob for the Mole Joon, and one for the gheimeh. So to cook the turkey, I bought a couple of portable electric hobs. In my testing, one of them broke (thanks, Cusimax), but I guess that's why I bought two. As I went to grind the walnuts for the Mole Joon there was a brief moment of mild panic as the food processor I bought back in 2012 seemed to have finally died, though thankfully this was a false alarm and after trying fruitlessly to use a hand/immersion blender, it started back up.
Still, things went pretty well by my standards on the Wednesday, though my standards are based on the disaster that was my first attempt at the market. The Christmas special wasn't as popular as I thought it would be, with Mole Joon overwhelmingly being the favourite. That said, having a veggie option was the right choice as that helped with sales.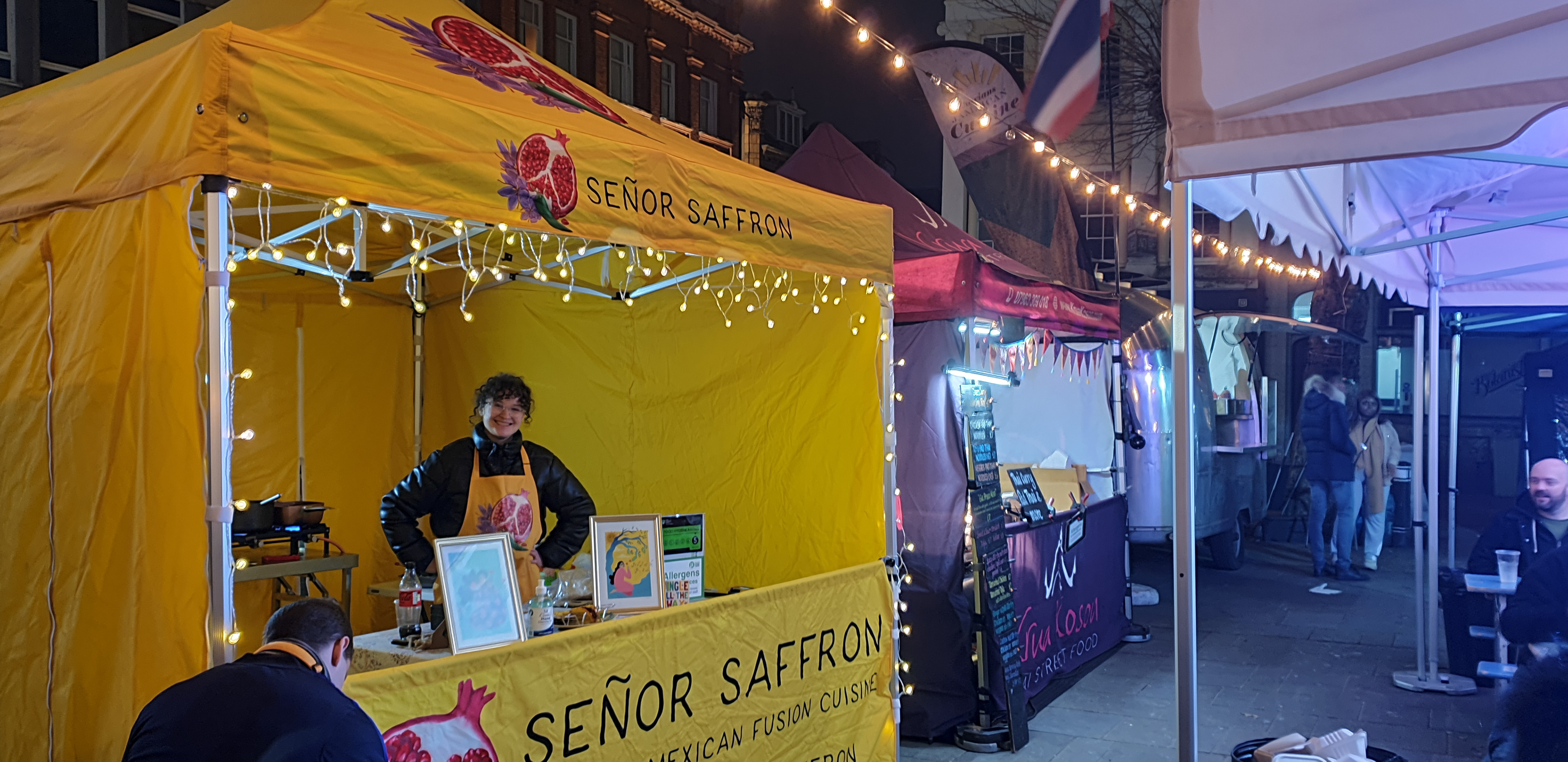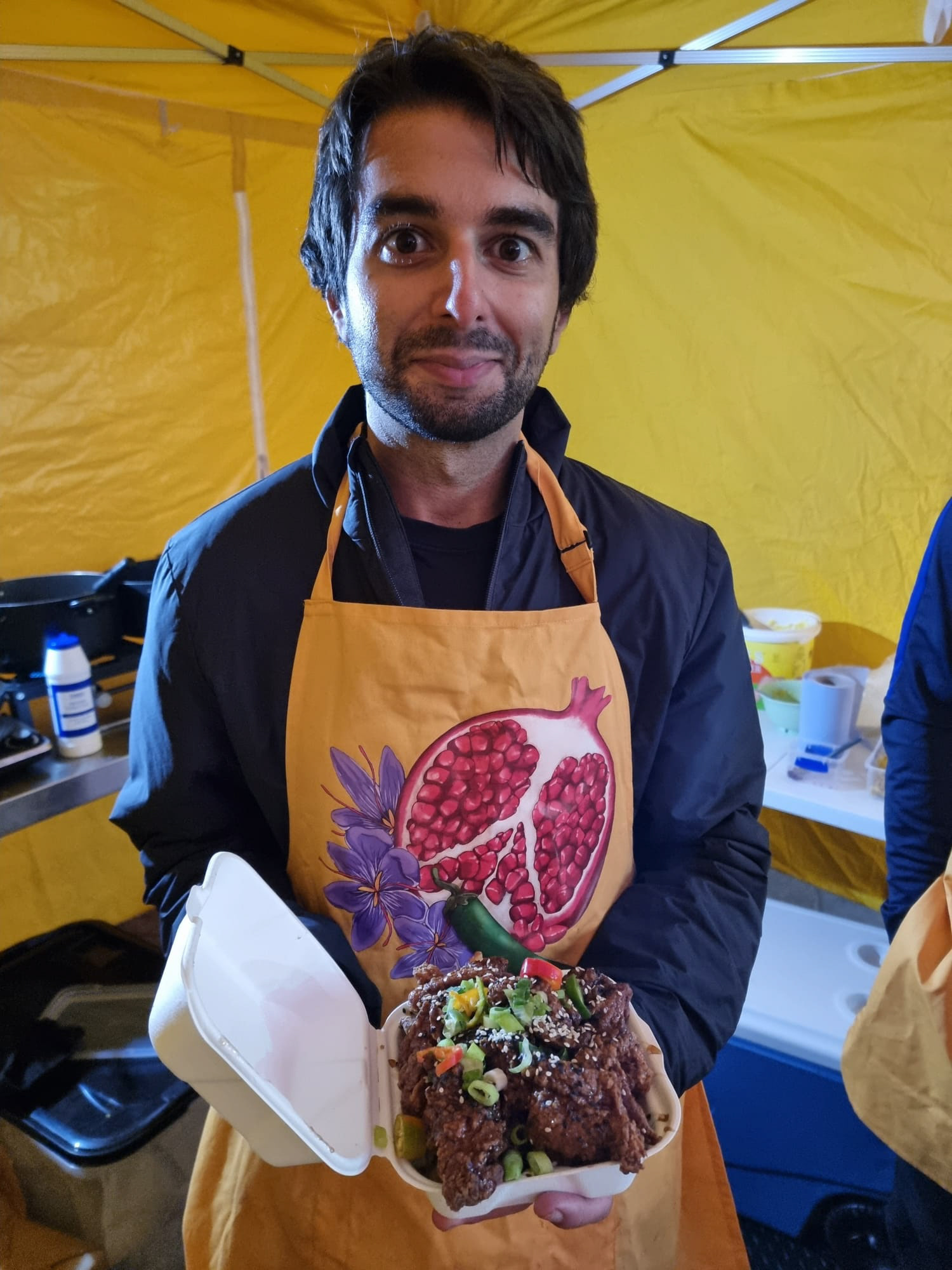 The Saturday saw some more sales of the Christmas special which was good, and I had the added bonus of having the lovely Rachel givng her best sales patter to the public. I ordered
Saffron & Rosewater Brownies
(and a handful of Christmas Pudding Brownies) from
Modern Persian Kitchen
 for the weekend market because a) they fit the Persian/Saffron theme and b) these brownies are absolutely lovely, and who doesn't like dessert? As of writing there is just a couple of days to
back MPK on Seedrs
(fun fact: I interviewed for an internship at Seedrs almost a decade ago in 2012). I was also excited to try out the Christmas lights I had ordered from Amazon (thanks to Tom for doing a bang-up job of tying them to the gazebo). I was also excited to work alongside one of my favourite Blue Collar regulars, Gurt Wings, who I was very happy to do a food swap with on the Saturday (their Japanese Fried Chicken is to die for).
I think I managed three hours of sleep on Friday night, and between the Saturday and Sunday markets I managed to squeeze in a couple of hours between prepping, cooking, and cleaning (thanks to my mates "The Pork Men" with helping with the cleaning up). The Sunday market was a lot quieter, most likely due to news of the increasing spread of Omicron, but it was still good to see some returning faces (now masked) over the two days.
I was also great to have new fans: a dad who came with his little girl whose favourite cuisine is Persian, a chap who gave a thumbs up and said "that was great, please come again", and another chap who ate three Mole Joon Tados, then came back a few minutes later to eat three of the Gheimeh Tados. We also had two half-Iranian customers (I quipped to the second that they made one whole Iranian between them) who were excited to see tahdig/tahchin in portable form.
And then I remember why I do this.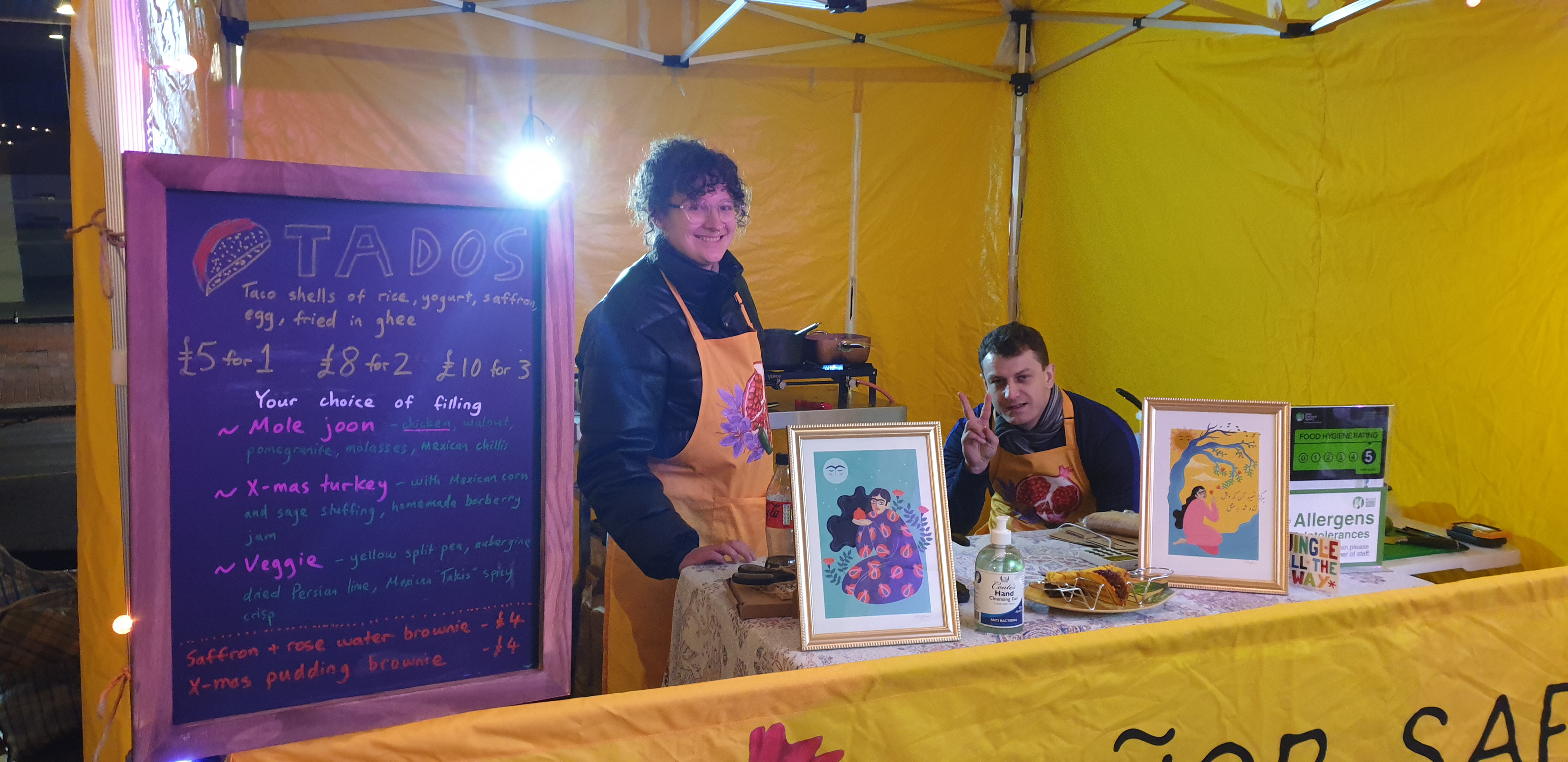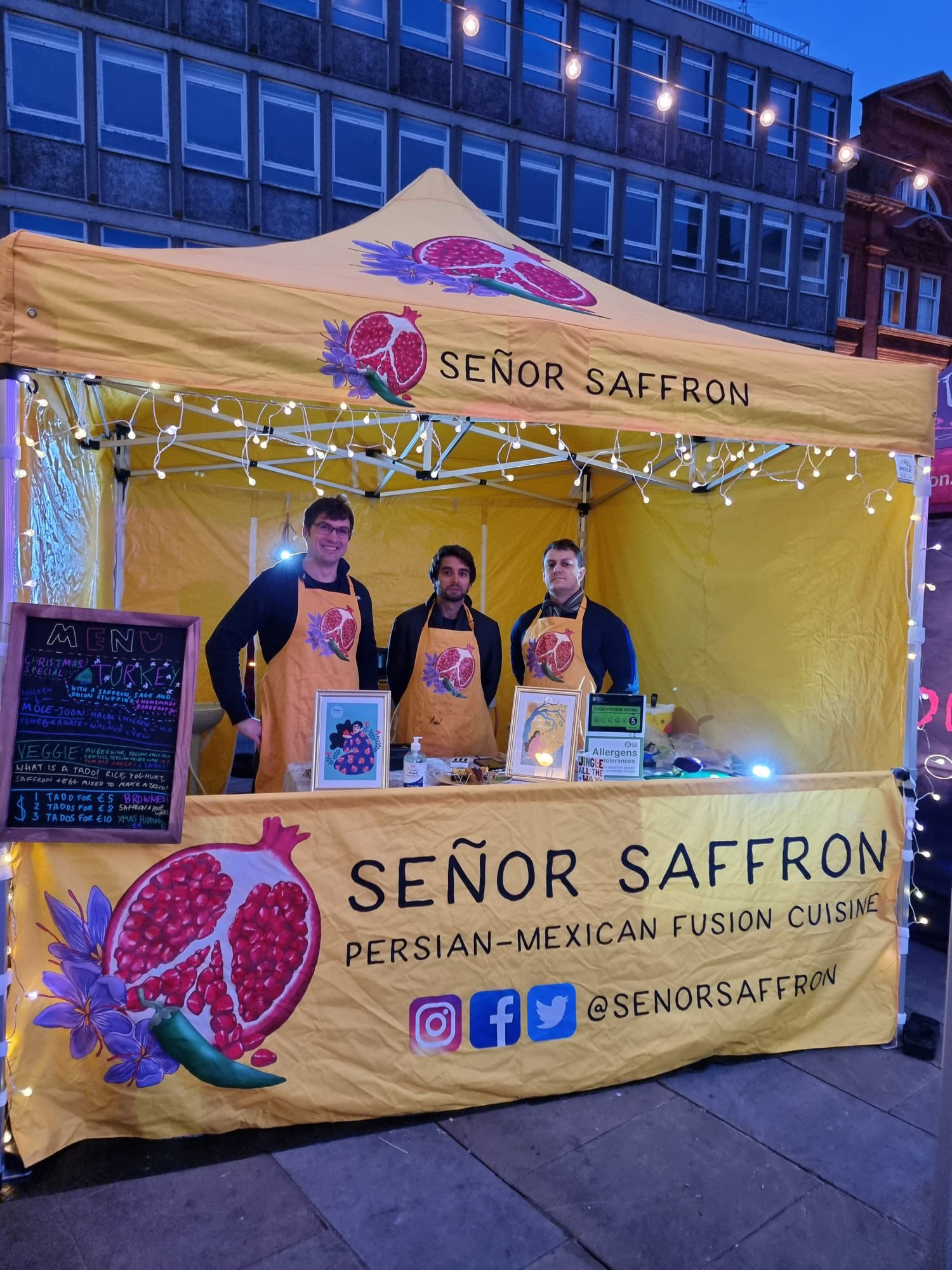 Speaking of tahdig tacos, at the start of August just a couple of days before my second Señor Saffron outing, I came across the
@tahdigtacosofficial
Instagram account. At first I was dismayed as I no longer felt like a genius as someone else had been making tahdig tacos before me. But then I saw that her approach was different, with what looks like a lavash-and-rice-based tahdig forming the basis of the tahdig taco, so the tahchin-based taco deep-fried in ghee is still something of my own invention. In the end, it's exciting to see Persian cuisine evolve in different ways from different minds, and I hope to go to California and try those tahdig tacos one day.
On the topic of tacos, I really need to get some cardboard taco holders for next time; the tados and their filling currently keep falling about in the take-away boxes. Unfortunately any taco-related packaging is hard to get hold of in the UK (it's abundant and cheap in the US), and the only ones I can find from my supplier
BioPak are for two tacos
/tados, so I will most likely need to get these custom made. I still need to figure out safer way to handle taking the tados in and out of the deep frying pan. Need to learn to drive so I can take myself to and from the market (I've started lessons at least at the grand old age of thirty-three).
Feedback for the Christmas special was that it could have used more jam and stuffing, which I agree with (I ended up with a lot of leftover jam in my fridge). Next Christmas, then. And while having a veggie option helped increase sales, I still need to figure out vegan tados; not just for vegans, but also for people with egg and/or dairy allergies. A couple of people saw the logo with the pomegranate and assumed we sold drinks. Rachel suggested I sell drinks in future, and my girlfriend suggested I sell Agua de Jamaica (pronounced "ha-mai-ka", Latin American Spanish for a chilled hibiscus-steeped drink). Maybe saffron-infused Jamaica? Or mixed with pomegranate juice? I did like the
Saffron & Rosewater milkshakes
from my first Señor Saffron outing, if there's enough demand they may make a return (and would go nicely with those MPK Saffron & Rosewater brownies...).
Big thanks to Glen and Rich from Blue Collar for having me again, to my sister Niki for helping out with the Wednesday stall, to Rachel for helping out on Saturday and Jason for helping out on Sunday, to The Pork Men for cleaning up Saturday night, and to Tom for helping out throughout the whole week, including the indispensable job of driving everything to and from the market (and making subsequent trips to and fro when I inevitably forgot things like spoons).
To close, here's a photo of me looking very tired on the Sunday with a Pumpkin Spice Latte to give me strength. Hope to see you all again soon :)